Posted on
By Cindy DeLong
Posted in Best Polish Pottery Selection, Best Selection Of Mosquito Pottery, Best Selling Polish Pottery Plate, Best Zaklady Polish Pottery Selection, Ceramika Artystyczna Polish Pottery, Hand Painted Boleslawiec Pottery, Hand Painted Ceramic Bowls, Hand Painted Polish Pottery Bowl, Hand Painted Polish Pottery Teapot, Handmade Ceramic Pottery, Handpainted Peacock Pottery, High End Polish Place Settings, Kalich Polish Stoneware, Manufaktura Polish Pottery, Polish Pottery Ceramic Mugs, Polish Stoneware Bubble Mug, Top Polish Stoneware Collections, Top Selling Polish Dinnerware, Top Selling Polish Dishes, Top Selling Polish Pottery Mug, Unikat Polish Pottery Patterns, Unique Polish Ceramics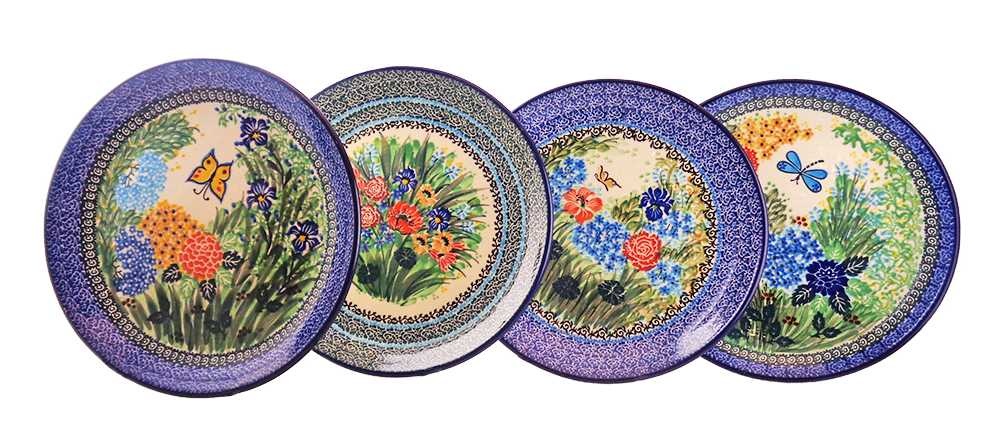 Avid Polish Pottery collectors shopping with us often show us a piece of pottery they are considering purchasing and ask if it's a Unikat. Or they may say that "I only buy Unikats." Other customers that are new to Polish Stoneware may ask, "What in the world is a Unikat?" 
"Unikat" is the Polish word for unique, or one-of-a-kind. These pottery pieces are always stamped UNIKAT on the bottom along with the manufacturer's logo. In addition, the piece is sometimes signed by the artist.
A Polish Pottery piece with a Unikat stamp signifies that the pattern is more unique, distinctive and sophisticated. As you might guess, these qualities are also reflected in a higher price.
By virtue of being individually hand-painted all Polish Stoneware is personalized by the artist and is unique. However, Unikats are in a category all of their own.
Some Polish Pottery companies even have several levels of Unikats. For example, Ceramika Artystyczna offers four different levels of Unikat designs. Each level represents a different price point.
Unikats are designed and painted by artists that are exceptionally skillful. They have spent years developing their own techniques and style. Each artist has developed a skill that individualizes their distinctive Unikat designs.
Some artists that design and paint Unikat patterns are well-known and pottery collectors seek out their patterns. Maria Starzyk and Teresa Liana are two artists that have amazing design collections. They both design for Ceramika Artystyczna. Plates designed and painted by them are in the picture with this blog post.
All Polish Stoneware is beautiful. But Unikats are even more breathtaking. One can only imagine the time and effort the artist puts in designing and painting each piece. These designs usually encompass six to eight different colors and include fine details making each unique.
At one time, Unikats were purchased as display pieces. As Polish Pottery has grown in popularity, and availability, this has changed, and now Unikats are often used in kitchens every day.
Here at the Polish Pottery Shoppe, Unikats make up the majority of our inventory. Click here to see what's available.