Posted on
By Cindy DeLong
Posted in Best Polish Pottery Selection, Best Selection Of Mosquito Pottery, Best Selling Polish Pottery Plate, Best Zaklady Polish Pottery Selection, Ceramika Artystyczna Polish Pottery, Hand Painted Boleslawiec Pottery, Hand Painted Ceramic Bowls, Hand Painted Polish Pottery Bowl, Hand Painted Polish Pottery Teapot, Handmade Ceramic Pottery, Handpainted Peacock Pottery, High End Polish Place Settings, Kalich Polish Stoneware, Manufaktura Polish Pottery, Polish Pottery Ceramic Mugs, Polish Stoneware Bubble Mug, Top Polish Stoneware Collections, Top Selling Polish Dinnerware, Top Selling Polish Dishes, Top Selling Polish Pottery Mug, Unikat Polish Pottery Patterns, Unique Polish Ceramics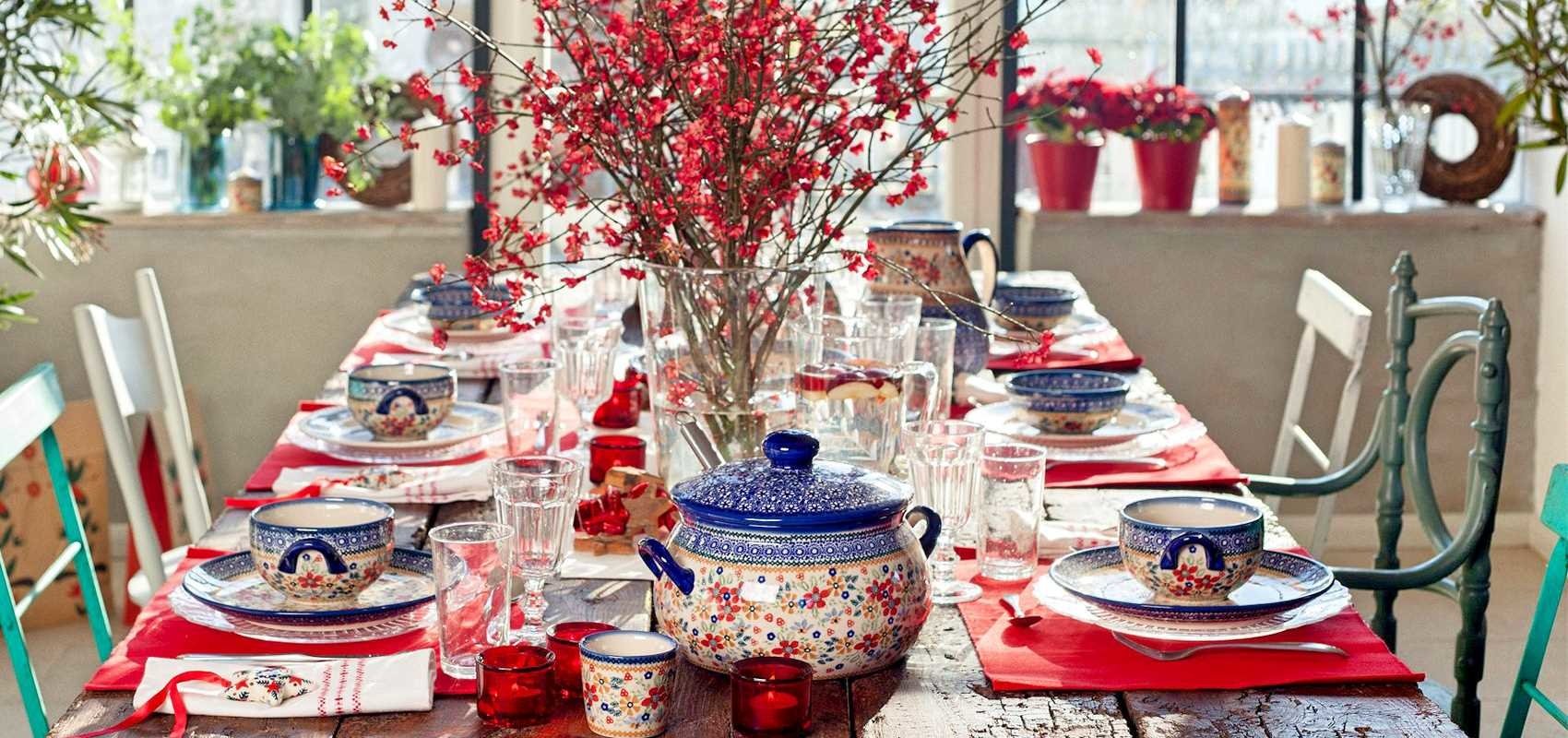 We always look forward to the holiday season when we begin to gather with family and friends to celebrate the past year. We enjoy each and every one of you, whether you are an in-shop, online, or virtual customer who follows us on Facebook.
Strangers have become customers. Customers have become friends. Friends have become dearer. All of you are dear to us!
When Christmas is just around the corner, homes are decorated, gifts are being beautifully wrapped, candles are being lit, and holiday gatherings are in full swing. Families celebrate differently according to their traditions, but one thing they all have in common – delicious food is part of their gathering.
If you are hosting the holiday dinner this year, you need to decide on your menu and plan when to get started on some of the cooking. Whether you are having six or twenty-six guests, you are either setting a dining room table (or two) or planning a buffet dinner. But just as important as the food, you need to also decide how will it look. 
Holiday tables and buffets set the mood, so plan yours now to make it festive! We would like to offer a few suggestions that will help you set a beautiful table.
Use a Polish Pottery Serving Bowl instead of a vase for a centerpiece. If you are creative and adventurous, you can purchase floral foam at Hobby Lobby and add fresh or silk flowers and greenery. If you prefer to leave this to a professional, take your pottery to your local florist where they will be happy create a gorgeous centerpiece for you.
You can also add Polish Pottery ornaments to an existing centerpiece. Pipe cleaners, available at Hobby Lobby, work well to attach ornaments to a centerpiece, garland, or even a tree. Visualize some lightweight ornaments like birds or angels as part of your centerpiece.
A beautiful Polish Pottery bowl or a tall hurricane glass filled with round Polish pottery ornaments makes a colorful presentation. Add greenery and some red berries around the outside, and you've got a gorgeous centerpiece. Simple, yet elegant.
A more formal dining table will have Polish place settings for each guest. Why not combine cute reindeer or snowman ornaments with ribbon to make a napkin ring? This is a quick and easy way to add some color to your table, as well as some conversation and a memorable gift for each guest.
If you are reading this blog, you probably already know how wonderful Polish Stoneware is to cook and serve in. If this is something new, you are in for a big treat! Check out our Bakeware and Serving Pieces to purchase your first piece.
For those new to this functional art, let us tell you a little bit about it. Polish Pottery goes in the freezer, oven, microwave, and dishwasher. Baking dishes are wonderful because heat distributes evenly, baking your favorite dishes evenly in your oven. No more dishes that are half-baked in the center.
Our polish stoneware goes from oven to table, making a beautiful presentation during the holidays and every day. The hand painted pottery retains the heat from the oven, so the food stays warm longer.
When it's time to do the dishes, the wonderful glaze on Polish Stoneware makes it clean up like a dream. No more scrubbing. Simply put the dishes in the dishwasher, add soap, and turn it on. 
One more thing you'll love to know is that Polish Pottery is known for its durability. That is one of the traits people love about it. That's why we say Polish Pottery place settings are beautiful enough for special occasions, yet durable enough for every day.
Whether you have one Polish Pottery Baker, or an entire array of serving, baking and decorative pieces, we know you will enjoy using it this holiday season!