Posted on
By Sharon Lukachick
Posted in Authentic Polish Pottery, Best Polish Pottery, boleslawiec pottery, Ceramica Polish Pottery, Dinnerware made in Poland, Genuine Polish Pottery, Hand Painted Polish Pottery, Handmade Boleslawiec Stoneware, Home of Polish Pottery, Irish Cheer Polish Pottery, Original Polish Pottery, Polish Pottery Bubble Mugs, Polish Pottery Factories, Polish Pottery Shop, Polish Pottery Stone, Polish Pottery Tray, polish stoneware, Polish Tableware, Pottery from Poland, We love Polish Pottery, WR Ceramika, WR Unikat Polish Pottery, Zaklady Polish Pottery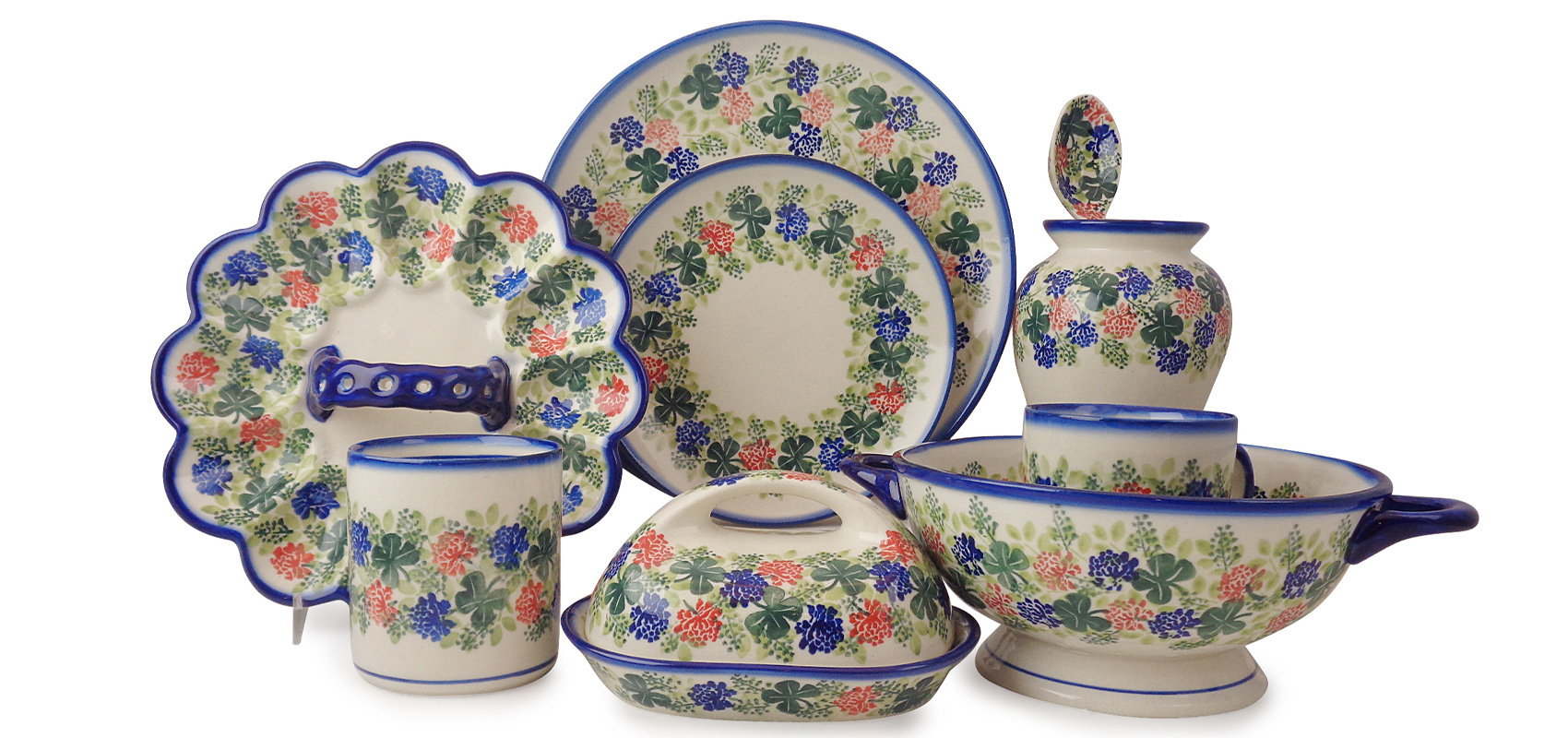 St. Patrick's Day, coming up shortly, is always a fun holiday.  It's a perfect excuse to prepare a festive meal of the Irish style whether your roots are from the Isles or elsewhere in the world.  At the Polish Pottery Shoppe we have some patterns that will make your meal even more fun!
It's not too early to start thinking about March 17.  Aye, St. Patrick's Day is just around the corner and have we got festive patterns for that celebration!
If you've been in our shop during the last year, you've seen one of our newer patterns named Irish Cheer.  Adorned with green shamrocks among blue and red flowers sprinkled with greenery, it's the perfect way to say I'm Irish even if for just one day. 
Why not begin your day with tea or coffee poured from a coffee or tea pot into an Irish Cheer mug? The larger, one-liter teapot offers a chance to share with others if you're feeling generous.
For lunch, a bowl of hot soup or Irish stew will warm you right up!  Both are easily served from the Casserole w/Lid, Deep Round Baker, or Soup Tureen.  Kiddos might prefer a smaller helping in WR Ceramika's Bowl 13 while adults usually opt for the larger Bowl 15.  Hot soup or Irish stew is usually served with freshly baked soda bread.  Of course, there's a Polish Pottery loaf pan for that! 
One of our favorite dinner appetizers are Shamrock Veggie Skewers, and the Cloud Dish is perfect for them.  For a little fun, dye hard-boiled eggs green and make deviled eggs, served in an Egg Plate, of course!  We Americans often think of Shepherd's pie as the definitive St. Patrick's Day entrèe.  We have an array of casserole dishes and one is sure to fit your needs for that, too.
Everyone appreciates fresh fruit for dessert.  A bowlful of sliced fruit in season is kept crisply appetizing in WR Ceramika's Colander.  Slip the Plate 19 underneath and guests think you're a genius!
We also offer Manufaktura Polish Pottery's Rhine Valley pattern and think it goes especially well with WR Ceramika's Irish Cheer.  You'll be stunned at all of the shapes available after clicking here
And just to whet your appetite, we suggest you visit All Recipes for their wonderful St. Patrick's Day concoctions!