Posted on
By Cindy DeLong
Posted in Best Polish Pottery Selection, Best Selection Of Mosquito Pottery, Best Selling Polish Pottery Plate, Best Zaklady Polish Pottery Selection, Ceramika Artystyczna Polish Pottery, Hand Painted Boleslawiec Pottery, Hand Painted Ceramic Bowls, Hand Painted Polish Pottery Bowl, Hand Painted Polish Pottery Teapot, Handmade Ceramic Pottery, Handpainted Peacock Pottery, High End Polish Place Settings, Kalich Polish Stoneware, Manufaktura Polish Pottery, Polish Pottery Ceramic Mugs, Polish Stoneware Bubble Mug, Top Polish Stoneware Collections, Top Selling Polish Dinnerware, Top Selling Polish Dishes, Top Selling Polish Pottery Mug, Unikat Polish Pottery Patterns, Unique Polish Ceramics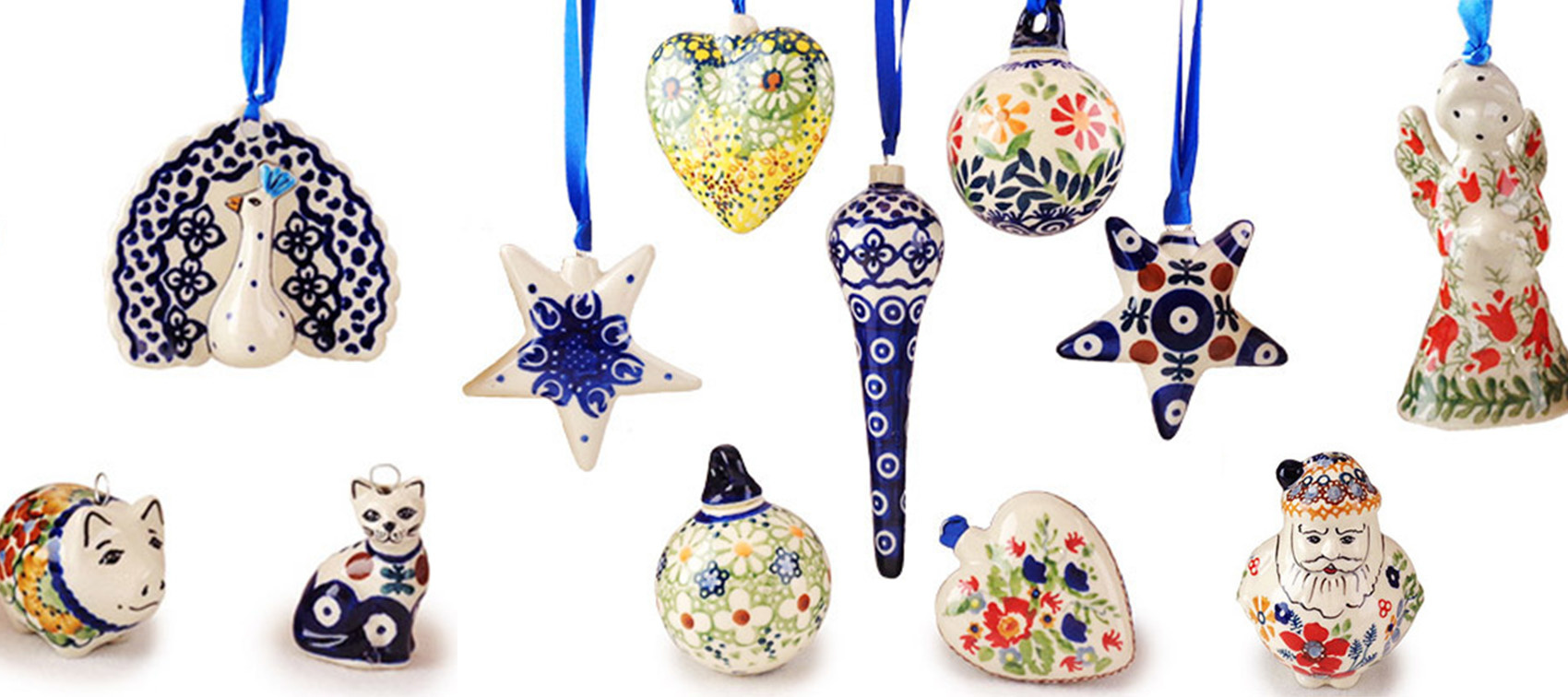 We always look forward to the most wonderful time of the year. Time to decorate, bake and search for the most perfect gift for loved ones. It's all part of the fun that we enjoy this time of year. There have even been media reports that the earlier you decorate for Christmas, the happier you are. So, get that tree up if it's not already done. 
Christmas ornaments are something we all have. Many are treasured family heirlooms passed down from one generation to another. Some are handmade by the children in the family. Some ornaments are simply favorite decorations and go on the tree every year.
If you are a serious collector, you have Polish Pottery Christmas ornaments that you've purchased here and there along your Polish Stoneware journey. To help with your collection, we have a rather large selection at The Polish Pottery Shoppe this year.
Our ornaments range from Santas and Snowmen to Peacocks. Yes, Peacocks! Hearts and Angels are classic ornaments for a tree. This year we also have cats, pigs, reindeer, and of course the time-honored ball ornament.
Ornaments make a great gift, so stop in and see our selection here at the shoppe. If you live out of town, click here and check them out on our website. Remember when you order, shipping charges are estimated. If you are charged too much, we do make partial refunds of the mailing costs.
An ornament is always a wonderful gift. Many of us need a small gift for a neighborhood gift exchange, office party or a good friend. With a pretty wrapping, an ornament is a much appreciated gift.
For people who love to decorate for the holidays, those who collect Polish Pottery, or people who collect ornaments of all kinds will especially love to receive a Polish Stoneware ornament this year.
We invite you to stop by the store or visit our website to see our wide selection of Polish Pottery Christmas ornaments. You'll want to shop early for the best selection, because once they're gone, we won't be able to get more until next year.
There are many ways to incorporate ornaments into the season's décor besides on the tree. Here are a few ideas:
- Add small Polish Pottery Ornaments to a holiday wreath. We have one here in the shop with small teapot ornaments on it. It's sure cute!
- A pretty ornament also makes a lovely addition to the bow on a Christmas gift.
- Here in the shop we have metal ornament trees. Some of our customers have one or more Christmas trees with only Polish Pottery ornaments on them. One even has a full size tree, decorated exclusively with Polish Stoneware ornaments – and it rotates!
- We've seen ornaments hanging from chandeliers, used in a bowl for a colorful centerpiece on a coffee table, or placed inside a hurricane lamp. They are beautiful incorporated in mantel decorations with lights and greenery.
- Many of us will be hosting holiday dinners. So don't forget to include Polish Stoneware ornaments in the table centerpiece. They can also be tied into the napkins at each place setting and serve as a small gift for each guest.
No matter what your holiday plans are, we are sure you will find many ways to include Polish Pottery to bring beauty and warmth to your home. Happy Holidays from the Polish Pottery Shoppe!