Posted on
By Cindy DeLong
Posted in Best Polish Pottery Selection, Best Selection Of Mosquito Pottery, Best Selling Polish Pottery Plate, Best Zaklady Polish Pottery Selection, Ceramika Artystyczna Polish Pottery, Hand Painted Boleslawiec Pottery, Hand Painted Ceramic Bowls, Hand Painted Polish Pottery Bowl, Hand Painted Polish Pottery Teapot, Handmade Ceramic Pottery, Handpainted Peacock Pottery, High End Polish Place Settings, Kalich Polish Stoneware, Manufaktura Polish Pottery, Polish Pottery Ceramic Mugs, Polish Stoneware Bubble Mug, Top Polish Stoneware Collections, Top Selling Polish Dinnerware, Top Selling Polish Dishes, Top Selling Polish Pottery Mug, Unikat Polish Pottery Patterns, Unique Polish Ceramics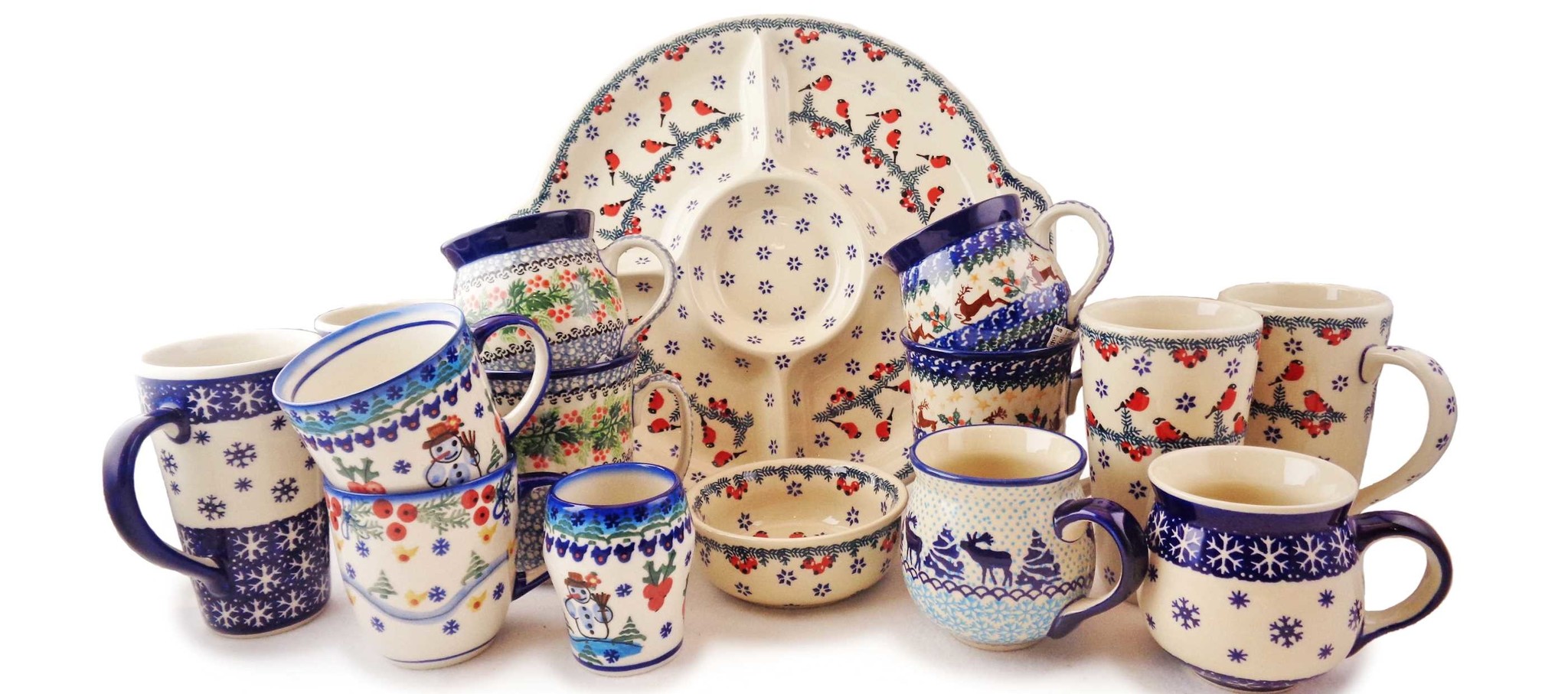 Once Thanksgiving is around the corner, everyone starts decorating, shopping, and planning for gatherings with family and friends. This time of year you can just feel the holiday hustle and bustle in the shop. It's so much fun to help customers select the perfect gift for that special someone.
Our staff plus two helpers spend an entire day putting up Christmas garlands, lights, and other decorations to get our store in the holiday spirit. Our owner, Cindy made a wreath with Polish Stoneware teapot ornaments and we arrange our extensive Polish Pottery holiday pieces, and other Polish Stoneware plates, mugs, etc. in holiday designs throughout the shoppe.
Local mural artist, Sherri Davis, paints our windows with garlands, ribbons, and wreaths. Here at the Polish Pottery Shoppe the halls are decked, and we are ready for your holiday shopping to begin. 
We have so many festive holiday Polish Stoneware patterns this year. Some of them we have had in the past, but some are brand new. W.R. Ceramika has sent us more of their cute Winter and Frosty patterns. We have place settings, mugs, bowls, teapots and more in these two coordinating designs.
We've had Snowflake and Carolers from Manufaktura Polish Pottery in years past. We have expanded our collection in these patterns this year. A new pattern is Bullwinkle, named after the famous moose from the Rocky and Bullwinkle cartoon series from long ago.
We have the Holly Berry pattern from C.A. just as we did last year. This year we have added a new C.A. pattern in mugs. It's called Prancer, and as you have probably guessed, features one of Santa's reindeer.
As you would expect, we have Polish Stoneware Illuminated Santa Claus, Snowman, Angel, Christmas Tree and Church luminaries. A long-standing customer favorite, the luminaries are beautiful. They add an elegant touch to your festive home, and of course are a wonderful gift.
A customer recently purchased angels for each of her five sisters. All alike, as they were all angels, but different patterns according to individual personalities and taste of each sister. She thinks this might be the beginning of a Polish Stoneware tradition for sister Christmas gifts. Maybe next year will be an illuminated Santa. What is your Polish Pottery Christmas tradition?