Posted on
By Cindy DeLong
Posted in Best Polish Pottery Selection, Best Selection Of Mosquito Pottery, Best Selling Polish Pottery Plate, Best Zaklady Polish Pottery Selection, Ceramika Artystyczna Polish Pottery, Hand Painted Boleslawiec Pottery, Hand Painted Ceramic Bowls, Hand Painted Ceramic Pottery, Hand Painted Polish Pottery Bowl, Hand Painted Polish Pottery Teapot, Handpainted Peacock Pottery, High End Polish Place Settings, Kalich Polish Stoneware, Manufaktura Polish Pottery, Polish Pottery Boleslawiec, Polish Pottery Ceramic Mugs, polish pottery Christmas, Polish Stoneware Bubble Mug, Top Polish Stoneware Collections, Top Selling Polish Dinnerware, Top Selling Polish Pottery Mug, Top Selling Polish Pottery Patterns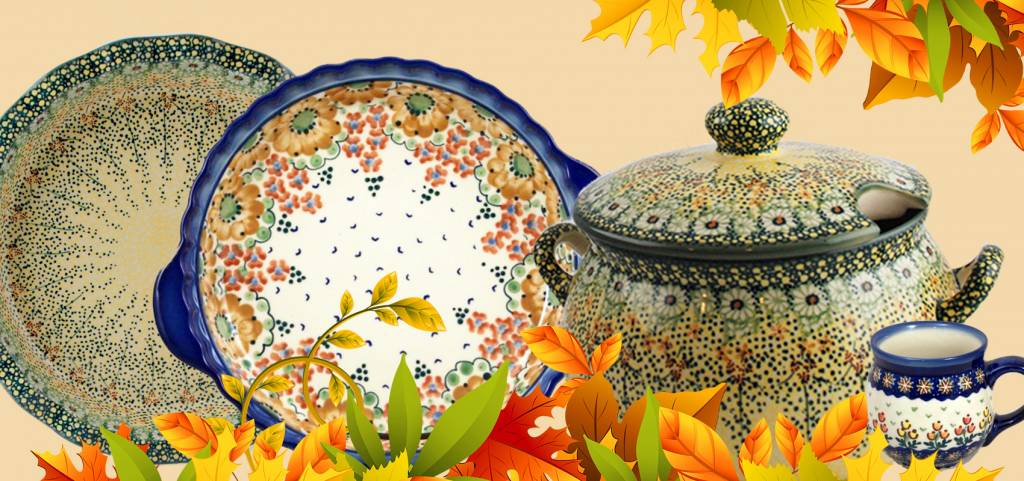 It's hard to believe that Fall 2018 is knocking at the door. Warm colors and drinks, hot stews and spicy foods, all sound better when the temps take a dip into the 50s and below. Enjoy them in Polish Pottery Stoneware.
Start off the day with a yummy quiche baked in Manufaktura's Ruffled Baker 27 or, to guarantee leftovers to reheat later, the Ruffled Baker 32. With a side of fruit in a scalloped dish and mug of coffee, you're fortified to face the day's morning chill. More beautiful autumn Polish Pottery Boleslawiec patterns are Avery, Roksana and Tuscany.
Lunch can be light yet filling with a mug of soup and one-half sandwich. The Small Oval Tray, coupled with a Medium Bubble Mug, work beautifully to accommodate both. For a more hearty appetite, try the Salad Plate 22 and F15 Cereal Bowl. You might even have room for a few chips or side salad on the 8 ¼"diameter plate.
Nothing speaks Fall dinner like homemade soup, chowder or thick stew ladled up from your Polish Pottery Soup Tureen. Our Chili Bowls are just the right size for these hearty fall favorites. Or, maybe the night calls for your lasagna baked in Manufaktura's Deep Rectangular Baker for a big crowd or Deep Square Baker for a smaller crew.
Now that you're thinking about Fall, it's time to start decorating for it. Begin with an arrangement of Polish Pottery Large and/or Small Jack-o-Lanterns in a variety of patterns, along with leaves from your yard. Throw in some Polish Pottery Stoneware friendly Illuminated Owls and you're good to go. After Halloween, turn around the Jack-o-Lanterns to show Large and/or Small Pumpkins. Now you're set until it's time to decorate for the December holiday season. We will be offering Ceramika Artystyczna pieces this year that you'll love. Stay tuned with Shoppe updates!