Posted on
By Cindy DeLong
Posted in Best Polish Pottery Selection, Best Selection Of Mosquito Pottery, Best Selling Polish Pottery Plate, Best Zaklady Polish Pottery Selection, Ceramika Artystyczna Polish Pottery, Hand Painted Boleslawiec Pottery, Hand Painted Ceramic Bowls, Hand Painted Ceramic Pottery, Hand Painted Polish Pottery Bowl, Hand Painted Polish Pottery Teapot, Handpainted Peacock Pottery, High End Polish Place Settings, Kalich Polish Stoneware, Manufaktura Polish Pottery, Polish Pottery Ceramic Mugs, polish pottery Christmas, Polish Stoneware Bubble Mug, Top Polish Stoneware Collections, Top Selling Polish Dinnerware, Top Selling Polish Pottery Mug, Top Selling Polish Pottery Patterns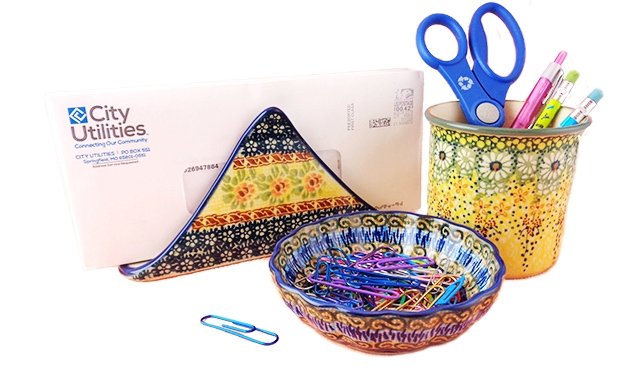 We like to think of new and fun ways to use Polish Pottery pieces. A great example is making a Polish Stoneware desk set, similar to the one pictured above. It is made up of a letter holder (napkin holder), pen and pencil holder (top selling Polish Pottery mug) and a paperclip dish (scalloped dish 12). Of course, you can add more stoneware pieces but this is what we consider the "basic desk set."
Another idea is to add a long rectangular tray on top of your dressing table to be used for jewelry. It can be kept in a closet, vanity, dresser, or any place that is convenient for you. There you have a place for your favorite watch, rings, earrings, pendants, and other pieces that you reach for frequently. You can even add scalloped bowls if you would like to have a special place for earrings, rings, etc.
Cindy DeLong, our owner, enjoys using a round tray in her bathroom for makeup. There, she can keep the items she uses daily right there where they are handy and accessible. Because they are all on a tray together, they don't look messy. A small ruffled baker would also serve the same purpose – just a bit fancier.
An oval tray is a great place for keys and wallets to call home when they are not out with you shopping, working, or having fun with friends. If your keys, wallets and other various items are placed in the tray just as you come in the house, they're never lost. Just find a convenient place in the kitchen or entry hall for an oval tray that fits your décor. A small rectangular baking dish also works.
Grandmothers are having fun using our salt pigs as cereal and soup bowls for their grandchildren. The children think they are pretty special and love having something of their own. When not being used for soup or cereal, they can hold salt by your stovetop for easy access. This holiday season, you can also let them double as a candy dish.
The small napkin holders made by W.R. Ceramika or our Manufaktura business card holders are perfect for holding reading glasses or cell phones. Place your cell phone on one in your kitchen and talk away as you prepare dinner tonight.
These are just a few ideas showcasing the versatility of Polish Pottery stoneware. We encourage you to be creative with the Polish Pottery pieces in your home. Why not let them do double duty? It's all beautiful, so show it off in new ways and enjoy it all the more!