Posted on
By Cindy DeLong
Posted in Best Polish Pottery Selection, Best Selection Of Mosquito Pottery, Best Selling Polish Pottery Plate, Best Zaklady Polish Pottery Selection, Ceramika Artystyczna Polish Pottery, Hand Painted Boleslawiec Pottery, Hand Painted Ceramic Bowls, Hand Painted Ceramic Pottery, Hand Painted Polish Pottery Bowl, Hand Painted Polish Pottery Teapot, Handpainted Peacock Pottery, High End Polish Place Settings, Kalich Polish Stoneware, Manufaktura Polish Pottery, Polish Pottery Ceramic Mugs, Polish Stoneware Bubble Mug, Top Polish Stoneware Collections, Top Selling Polish Dinnerware, Top Selling Polish Pottery Mug, Top Selling Polish Pottery Patterns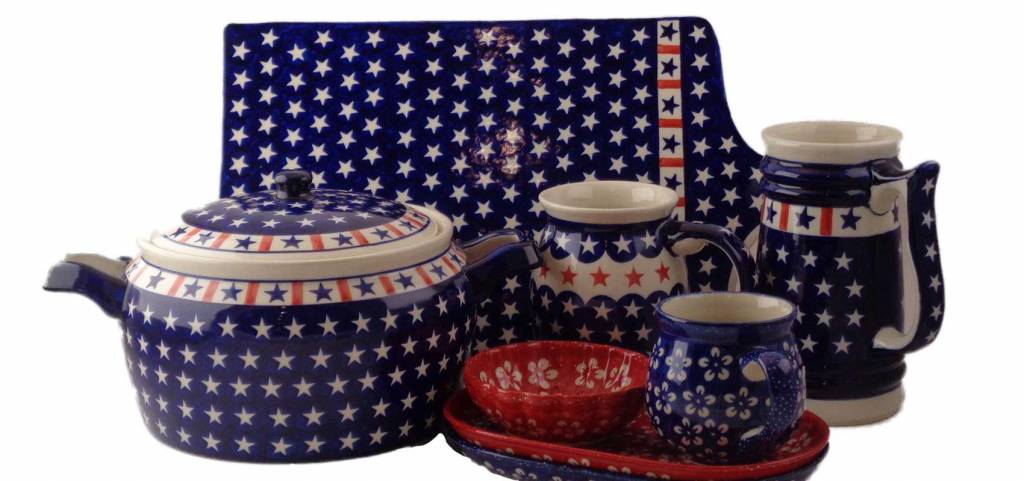 The red, white, and blue stars and stripes of the Americana pattern were designed in honor of our service men and women stationed in Europe. There are many variations of this patriotic pattern and it is lots of fun to showcase, especially to use throughout your July 4th celebrations here in the U.S.
Our military men and women and their families have a long-standing connection to Polish Pottery. Their collections begin while they are stationed in Europe, and continue to grow as years go by. It is so popular with our military, that most bases carry a stock of Polish Stoneware.
In fact, Margaret, one of our employees, began her Polish Pottery journey when her son was stationed at Scott Air Force Base in Illinois. While visiting him she saw the most beautiful Polish Pottery at the Base Exchange. She thought the colors and patterns of the stoneware were beautiful and her interest in pottery began.
When Margaret's son was stationed at Ramstein Air Force Base in Germany, her collection of Polish Pottery expanded because within a block of her son's house was a shop full of Ceramika Artystyczna Polish Pottery. She instantly spied her favorite patterns, Mosquito and Peacock. Margaret fondly recalls the kindly shopkeepers and their lovely pottery.
Visiting Boleslawiec, Poland, where Polish Pottery is made is a wonderful excursion for military families who are stationed in the area. Boleslawiec is located in the southwest corner of Poland, close to the German border making it very easy to access. Most folks go by car, but the military bases offer bus tours of Boleslawiec for families. On those tours, very little luggage is brought along by participants because they save luggage space for all the lovely pottery they will be bringing home.
A number of our customers at The Polish Pottery Shoppe became acquainted with the pottery while stationed in Germany. They tell us stories of visiting numerous factories to see Polish Pottery made, such as Cermika Artystyczna, Manufaktura, Andy's, Kalich, and W. R. Ceramika. It is such fun to hear their stories and watch their collections continue to grow.
You can shop online at The Polish Pottery Shoppe for our patriotic Americana pattern and compliment your pieces with our red and blue Blossom patterns. We would love to help expand your collection or get your collection started with our top selling Polish pottery patterns.