Posted on
By Cindy DeLong
Posted in Best Polish Pottery Selection, Best Selection Of Mosquito Pottery, Best Selling Polish Pottery Plate, Best Zaklady Polish Pottery Selection, Ceramika Artystyczna Polish Pottery, Hand Painted Boleslawiec Pottery, Hand Painted Ceramic Bowls, Hand Painted Ceramic Pottery, Hand Painted Polish Pottery Bowl, Hand Painted Polish Pottery Teapot, Handpainted Peacock Pottery, High End Polish Place Settings, Kalich Polish Stoneware, Manufaktura Polish Pottery, Polish Pottery Bubble Mug, Polish Pottery Ceramic Mugs, polish pottery Christmas, Polish Stoneware Bubble Mug, Top Polish Stoneware Collections, Top Selling Polish Dinnerware, Top Selling Polish Pottery Mug, Top Selling Polish Pottery Patterns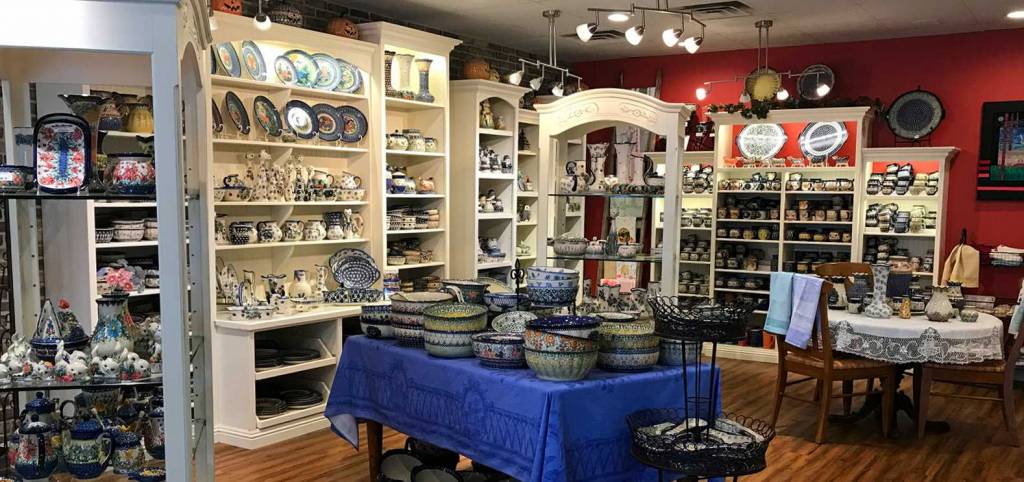 Polish Pottery is habit-forming. While greeting customers in our shop, our first question is usually, "Are you familiar with Polish Pottery?"
Of course, if the answer is no, we take the opportunity to educate them about the history of the pottery, its durability, its use, and how collectors often mix patterns. Another topic that often comes up during this conversation is just how addictive Polish Pottery is. You collectors out there know it's true.
Use a Polish Pottery bubble mug once and you don't want to use anything else. Then, if you have only one, you are forever digging it out of the dishwasher and hand-washing it, not to mention slapping the hands of anyone else in the family that dares touch it. All the more reason to stock up on more mugs.
Of course, your first piece, whether a Polish Pottery bubble mug, scalloped bowl, or figurine is only the beginning of your life-long Polish Pottery journey of beauty and love. Sometimes we joke with loyal customers who tell us they are addicted, that there is a 12-Step Program for them, suggesting something akin to a program. Then we all have a laugh. 
But, what if we did have a 12 Step Polish Pottery program? We are visualizing groups where we can have fun while celebrating our fun, loyal addiction to Polish Pottery. Rather than try to dismiss or fix our need for Polish Pottery, we feed it. We could have our own 12 steps at each meeting.
- 12 Piece Starter Kit – The 12 most essential pieces of Polish Pottery that might include a Polish Pottery Bubble Mug, Salad Plates, Dinner Plates, Cereal Bowls, Chili Bowls, Fruit Bowls, Scalloped Dishes, Baking Dishes, Pie Plates, Cats, Pizza Pans, Muffin Pans – that's an easy 12, what's next?
-12 Favorite Recipes to Prepare in Polish Pottery
-12 Favorite Beverages to Serve in Polish Pottery Mugs - There we could all just bring our favorite beverages to share.
-12 New Shapes We Wish for in Polish Pottery
-12 Ways to Use a Polish Pottery Pizza Pan
The more we toy around with this idea, the more we think we should do this. It would be an opportunity to enjoy an evening out and meet other Polish Pottery addicts like ourselves while having some fun!