Posted on
By Cindy DeLong
Posted in boleslawiec pottery, handmade polish pottery, polish dinnerware, Polish Pottery Boleslawiec, polish pottery bowls, polish pottery butter dish, polish pottery Christmas, polish pottery mugs, polish pottery patterns, polish pottery plates, polish pottery sale, polish pottery teapot, polish stoneware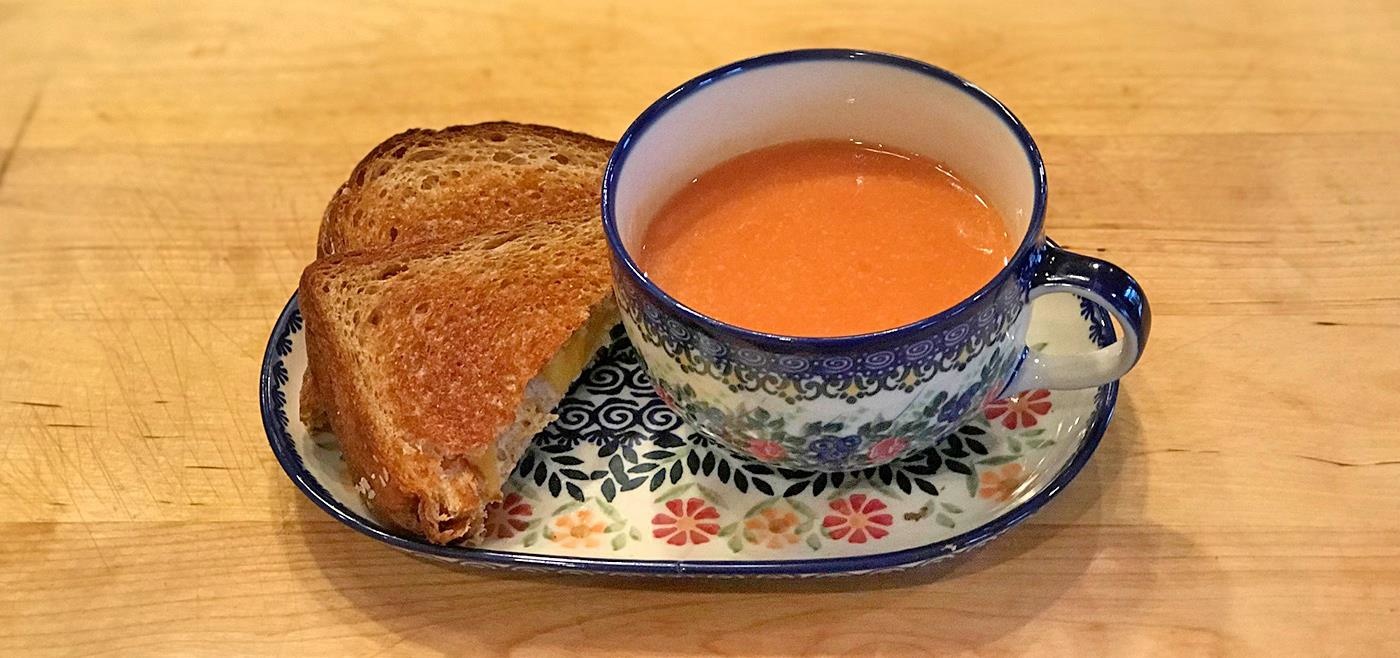 It's the end of February, meaning winter will soon be over. We don't know about everyone else, but we are more than ready for spring weather. We've had more than a few snowy days and nights this winter. Last night it iced all night long, the roads are icy, school is canceled, and the frigid temperatures are back. The only thing to do is build a fire, put on your warmest cuddle clothes and make comfort food.
One of our owner, Cindy's favorites is a hold-over from her childhood. It is good old-fashioned tomato soup and grilled cheese. That may sound simple and oh so basic, but it's true. This pair is made with just a few simple ingredients and takes only minutes to prepare from beginning to end. The soup warms you up from the inside out. Then, the gooey melted cheese and soft crusty bread melt in your mouth, especially when you dunk it. Yum!
This popular, old-fashioned combination tastes even better when served with our Polish Pottery Oval Tray and Latte Cup as shown above. A Loop-Handled Soup Cup or F15 Cereal Bowl would be great choices as well.  
Another great recipe during this cold, upcoming weekend is a big pot of French Onion Soup for your family and friends. Just pull out your favorite French Onion Soup recipe (or google one) and enjoy its rich aroma as it fills your kitchen. Serve this delicious dish in Polish Pottery F15 Chili Bowls. After filling the bowls with soup, top with croutons and cover the bowl with a nice thick slice of gruyere cheese. Place the stoneware bowls on a baking sheet and broil until the cheese is melted. Serve immediately.
What is your favorite winter-time recipe? Just about everyone loves chili, and for many, it's an old stand-by for wintry days. Or, what about a wonderful beef stew or chicken and dumplings? Any of these would be great served in a Polish Pottery Soup Tureen. Please share your favorite recipe with us and post pictures of it in your favorite hand painted Polish Pottery bowl.