Posted on
By Cindy DeLong
Posted in Best Polish Pottery Selection, Best Selection Of Mosquito Pottery, Best Selling Polish Pottery Plate, Best Zaklady Polish Pottery Selection, Ceramika Artystyczna Polish Pottery, Hand Painted Boleslawiec Pottery, Hand Painted Ceramic Bowls, Hand Painted Ceramic Pottery, Hand Painted Polish Pottery Bowl, Hand Painted Polish Pottery Teapot, Handpainted Peacock Pottery, High End Polish Place Settings, Kalich Polish Stoneware, Manufaktura Polish Pottery, Polish Pottery Ceramic Mugs, polish pottery Christmas, Polish Stoneware Bubble Mug, Top Polish Stoneware Collections, Top Selling Polish Dinnerware, Top Selling Polish Pottery Mug, Top Selling Polish Pottery Patterns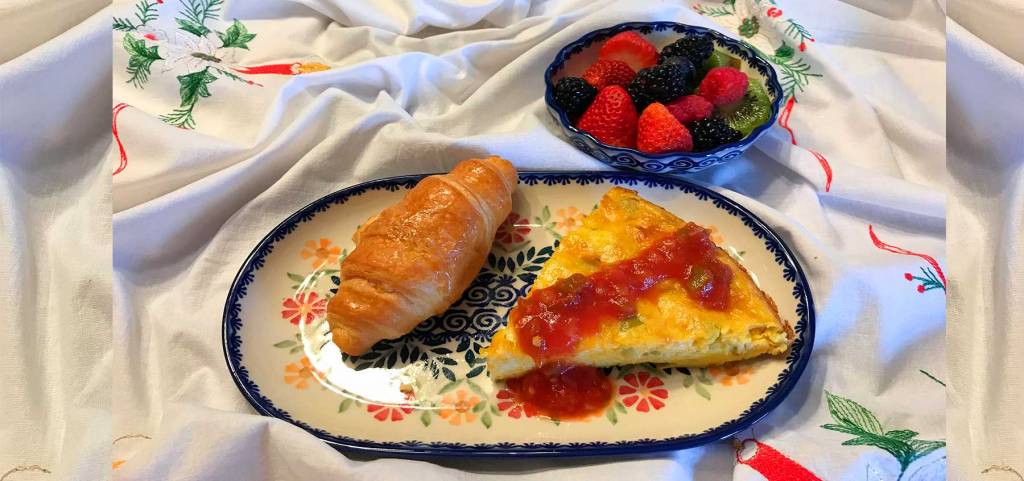 All of us at The Polish Pottery Shoppe would like to wish our friends, customers, and Polish Stoneware lovers everywhere a very Merry Polish Pottery Christmas, as well as a great 2019 to come. Many of you have become friends, and our friends have become dear. Thank you for your business and we look forward to serving your Polish Pottery needs in 2019!
We're sure that you've noticed the holidays are upon us! In the next few weeks, many of us will be traveling to visit family and friends near and far, or hosting loved guests from all around. We will spend treasured time and meals with those we love -- meaning the holidays are yet another opportunity to enjoy your Polish Stoneware collection.
Our owner, Cindy DeLong, is sharing a recipe from her family cookbook for your guests as they start the day at your home over the holidays. The Chili Egg Puff is a crustless quiche -- a breakfast recipe that is healthy and a filling meal to wake everyone up. Cindy often serves this to guests in her home with her favorite Polish Pottery patterns and it always inspires rave reviews.
Even better, this meal can be prepared beforehand. You know when company comes over life can get crazy busy in a hurry. The ingredients in this recipe can be mixed together the night before, and the following morning it can be stirred, poured into a Polish Pottery pie plate or a Polish Pottery square baking dish and baked. Pair it with a croissant and fruit salad and your guests are sure to be satisfied and impressed.
Another way to prepare this recipe is to bake it in a Muffin Pan to make individual servings. They can even be frozen and used throughout the week. On a busy morning, you can just pop the frozen Chili Egg Puff in the microwave and you have a yummy, high protein breakfast.
Chili Egg Puff
5 eggs, beaten
¼ cup flour
½ teaspoon baking powder
½ teaspoon salt
8 ounces cottage cheese
8 ounces Jack cheese, grated
1 can green chilis
1/8 teaspoon cumin
2 pinches oregano
Combine all ingredients with the beaten eggs and pour into a Polish Pottery pie plate or Polish Pottery square baker. No need to grease or butter your pie plate. As long as it's Polish Pottery the Chili Egg Puff will come right out.
Bake at 350 degrees for 35 minutes until slightly brown on top.
Serve with Salsa
Note: Makes six servings