Posted on
By Cindy DeLong
Posted in Best Polish Pottery Selection, Best Selection Of Mosquito Pottery, Best Selling Polish Pottery Plate, Best Zaklady Polish Pottery Selection, Ceramika Artystyczna Polish Pottery, Hand Painted Boleslawiec Pottery, Hand Painted Ceramic Bowls, Hand Painted Ceramic Pottery, Hand Painted Polish Pottery Bowl, Hand Painted Polish Pottery Teapot, Handpainted Peacock Pottery, High End Polish Place Settings, Kalich Polish Stoneware, Manufaktura Polish Pottery, Polish Pottery Ceramic Mugs, Polish Stoneware Bubble Mug, Top Polish Stoneware Collections, Top Selling Polish Dinnerware, Top Selling Polish Pottery Mug, Top Selling Polish Pottery Patterns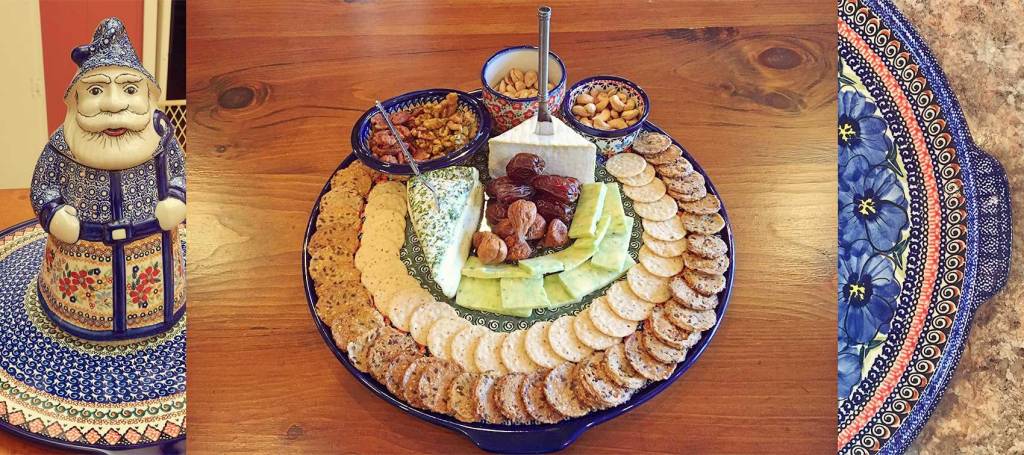 Some people may be surprised to learn that there are Polish Pottery pizza pans and pizza plates available. And you might be even more surprised to learn that these can be used for many more things besides just pizza. They are one of the most versatile shapes in our inventory.
These wonderful gems are a bit over 16" round with two handles that extend another inch or so on each side. The pizza pans also have a ¼" lip that comes in handy when using it as a serving piece.
Our hand painted Boleslawiec Pottery pizza pans come in a wide variety of patterns as all polish pottery does. Thus, they range from the very simple traditional Peacock or Mosquito designs to very artistic floral patterns. 
One question you might ask yourself when purchasing a piece of polish stoneware this size is of course, "Where am I going to store this large piece of polish pottery?"  One possibility is to put it on the wall and use it as a decorative piece of art.
Hobby Lobby, Michaels, or some other craft store will yield several options for hanging. Another way to store it is as a table centerpiece coupled with a bowl or, for example during the holidays a Santa may sit on it.
Pizza Pans are not just for pizza. In addition to being an artistic statement in your home, it can be used for meal preparation, baking and serving. For example, meats and vegetables can be chopped on it, drizzled with olive oil and put directly in the oven. When the meal is ready, simply remove it and place on your table as a serving piece. It's simple, beautiful and only one dish to be cleaned. 
Nachos and a polish pottery pizza pan are a perfect match. They can be used to warm a slice of brie for a party, then just add the crackers, a colorful menagerie of sliced fruit, or add a bowl in the center and it becomes a chip and dip service. 
They can also be used to bake cookies, warm a loaf of bread or rolls, or simple as a serving tray.  Be creative and have fun with this great piece of Polish Pottery.