Posted on
By Cindy DeLong
Posted in Best Polish Pottery Selection, Best Selection Of Mosquito Pottery, Best Selling Polish Pottery Plate, Best Zaklady Polish Pottery Selection, Ceramika Artystyczna Polish Pottery, Hand Painted Boleslawiec Pottery, Hand Painted Ceramic Bowls, Hand Painted Ceramic Pottery, Hand Painted Polish Pottery Bowl, Hand Painted Polish Pottery Teapot, Handpainted Peacock Pottery, High End Polish Place Settings, Kalich Polish Stoneware, Manufaktura Polish Pottery, Polish Pottery Ceramic Mugs, polish pottery Christmas, Polish Stoneware Bubble Mug, Top Polish Stoneware Collections, Top Selling Polish Dinnerware, Top Selling Polish Pottery Mug, Top Selling Polish Pottery Patterns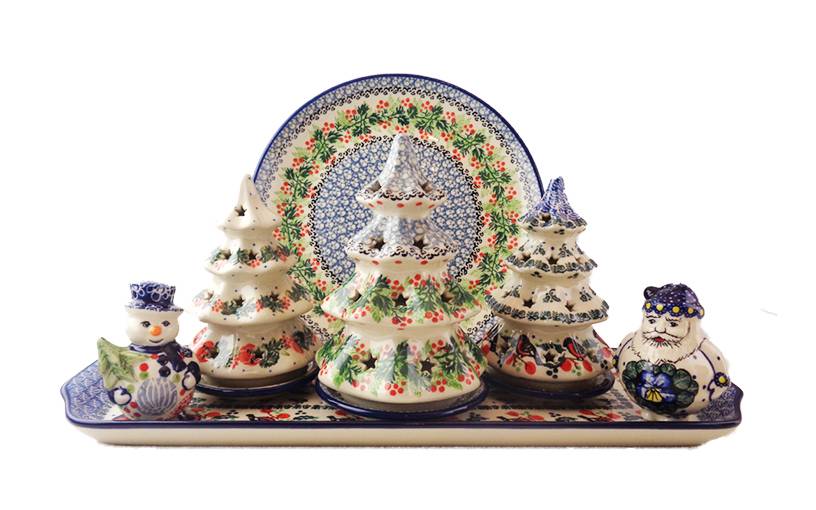 This is an exciting time of year – decorating for the holidays, searching for that special gift, enjoying gatherings with friends and family, as well as many other traditions we hold dear. With much anticipation, our Polish Pottery Christmas items are now out on the shelves and on our website ready for you to shop!
We still have the great selection of holiday pottery you've come to expect from The Polish Pottery Shoppe. Even better, we have added new shapes and patterns.
Embellish your Christmas tree with our selection of Polish Pottery ornaments, expanded this year to include several new shapes. In addition to the usual ball and icicle shaped ornaments, we also have Santa, Snowman, Cat and Angel shapes. Discover C.A. ball ornaments in new patterns and flat "cookie cutter style" shapes in Trees, Hearts, and Snowflakes.
This Christmas, we are excited to introduce Bilinksi ornaments from Poland. These glass ornaments are blown by hand and painted by hand with traditional folk art motifs. They are an elegant addition to your holiday tree and a wonderful gift for those who collect this style of embellishment.
Our Santa Cookie Jars are beautiful in your kitchen, on a mantle, or as a centerpiece on your dining room table. They can hold your favorite holiday treats, whether cookies, chocolates, toffee or your own special recipe.
This year's selection of illuminated shapes is larger than ever. Our wide assortment includes Illuminated Angels, Churches, Santas, Snowmen and Christmas Trees.
Also new for us this year are mugs, plates, and platters from C.A. We have added two new patterns called Holly Berry and Christmas. They are designed by one of our favorite artists, Maria Starzk. Both are over-the-top beautiful and sure to add grace and style to your holiday table!