Posted on
By Cindy DeLong
Posted in Best Polish Pottery Selection, Best Selection Of Mosquito Pottery, Best Selling Polish Pottery Plate, Best Zaklady Polish Pottery Selection, Ceramika Artystyczna Polish Pottery, Hand Painted Boleslawiec Pottery, Hand Painted Ceramic Bowls, Hand Painted Ceramic Pottery, Hand Painted Polish Pottery Bowl, Hand Painted Polish Pottery Teapot, Handpainted Peacock Pottery, High End Polish Place Settings, Kalich Polish Stoneware, Manufaktura Polish Pottery, Polish Pottery Ceramic Mugs, polish pottery Christmas, Polish Stoneware Bubble Mug, Top Polish Stoneware Collections, Top Selling Polish Dinnerware, Top Selling Polish Pottery Mug, Top Selling Polish Pottery Patterns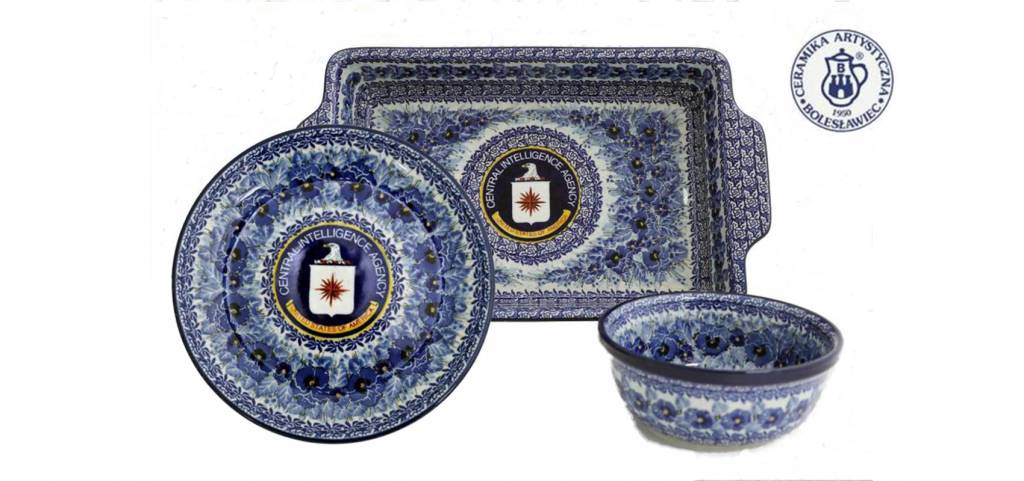 "Joy and disbelief" were the emotions described by Helena Smoleńska when her company was approached to design and produce Polish pottery for America's Central Intelligence Agency.  The super-secret CIA project was declassified late summer, 2018 after the pottery had been designed, produced, and shipped. 
Smoleńska, head of Ceramika Artystyczna, a cooperative pottery maker in Boleslawiec, Poland, says designing the pattern that included the organization's logo, was the most difficult part of the project. The agency had specific color requirements for their emblem which is made up of an American Eagle, compass rose, shield, and gold scroll that make up the logo. 
This challenge was given to Maria Starzyk, a well-known, and longtime artist with the cooperative.  The project took many months and several design "rehearsals" to perfect the concept. The result is a unique composition of the CIA official logo and a blue and white overall design featuring a floral pansy motif. 
Starzyk, considered a master artist, used multiple hues of blue to combine two completely different artistic styles into one beautiful arrangement. The design is hand-painted on the pottery, using no templates. 
The cooperative says that "This is a unique order and the only such stylization in the world, despite the fact that the company sends its products to 25 countries." The regal design is reserved for the CIA and is not available to anyone else. The company did not say how much handpainted Polish pottery they produced for this special order, only that some of the pieces were plates, bowls, and serving trays.
In 1997, Ceramika Artystczna also designed pottery in honor of Pope John Paul. According to the company website, it combines "time-honoured traditions with the challenges of modern applied art" in developing their unique designs. 
How did the CIA come to ask a Polish company to produce tableware for their agency? Not surprisingly, we know very little about this "mission." We do know our military personnel stationed in Europe often visit Boleslawiec to tour the factories and purchase Polish stoneware. We can only guess that is where the connection began. The company reports that their pottery is also sold at the Pentagon. Perhaps this unique design was commissioned to commemorate the 70th anniversary of the organization.
To see some more of this company's work check out our collection of Ceramika Artystyczna Polish pottery online.