Posted on
By Cindy DeLong
Posted in Best Selection Of Mosquito Pottery, Best Selling Polish Pottery Plate, Best Zaklady Polish Pottery Selection, Ceramika Artystyczna Polish Pottery, Hand Painted Boleslawiec Pottery, Hand Painted Ceramic Bowls, Hand Painted Ceramic Pottery, Hand Painted Polish Pottery Bowl, Hand Painted Polish Pottery Teapot, Handpainted Peacock Pottery, High End Polish Place Settings, Kalich Polish Stoneware, Manufaktura Polish Pottery, Polish Pottery Ceramic Mugs, Polish Stoneware Bubble Mug, Top Polish Stoneware Collections, Top Selling Polish Dinnerware, Top Selling Polish Pottery Mug, Top Selling Polish Pottery Patterns, Best Polish Pottery Selection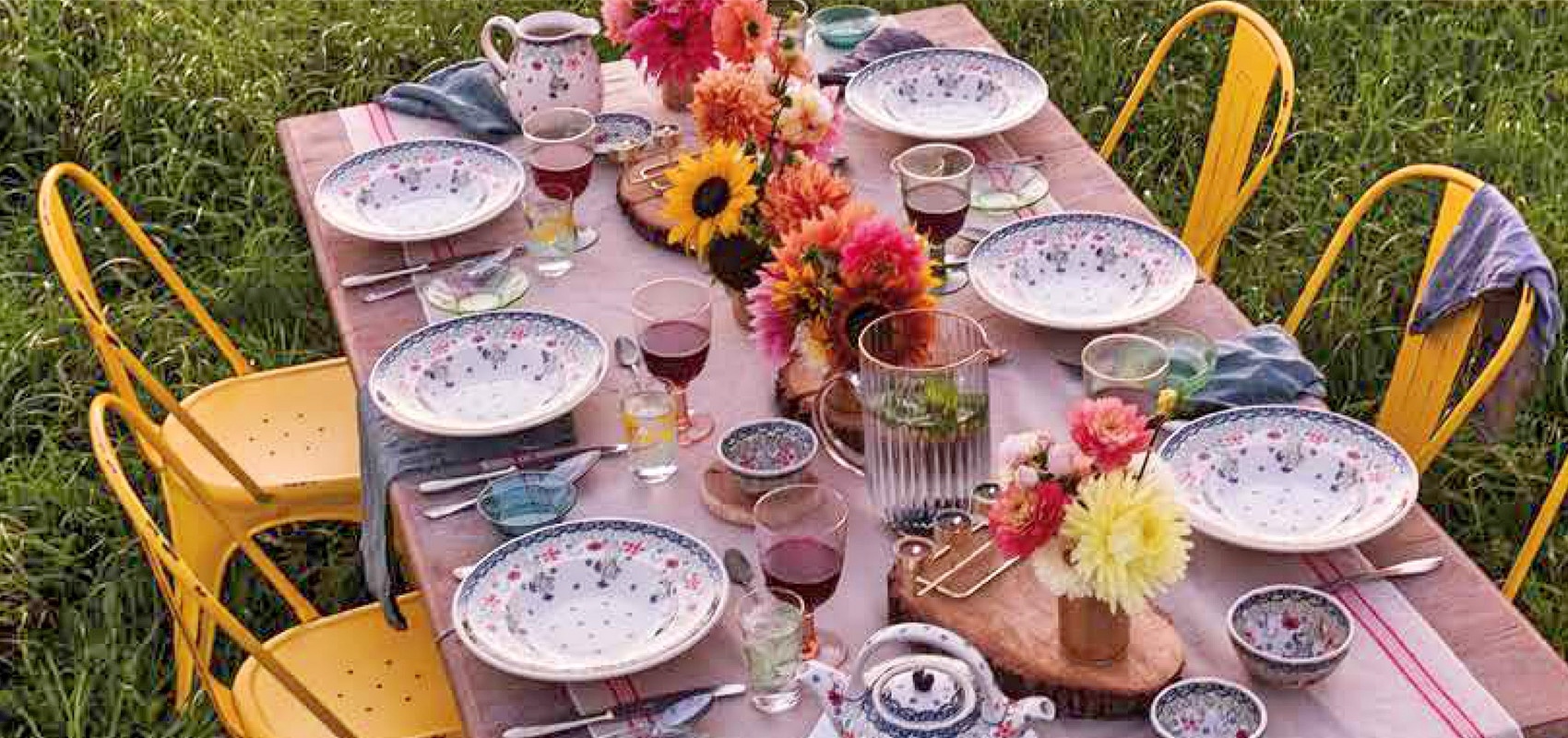 The deluge has come and gone, flowers are abloom, and it's time to start entertaining outside! Whether your dishes are barbeque, seafood/fish or vegan, The Polish Pottery Shoppe is sure to have the hand painted Boleslawiec Pottery tableware you need to make it festive.
For a slab (or two) of ribs or burgers galore, consider Manufaktura's Basia Platter. At roughly 17" x 12", it'll handle them with ease. If you're serving a smaller bunch, try using WR Ceramika's Platter 36. At a slightly smaller 14" x 9", it'll accommodate your entrée without shorting on presentation.
For a large salad, we recommend Manufaktura's F30 Fluted Serving Bowl or Ania Serving Bowl 28 with a smooth exterior. Both hold about 15 cups of fresh goodness. For a step down in size, we offer the Agata Serving Bowl 28, holding 12 cups. The most popular size, however, is probably Manufaktra's F24 Fluted Serving Bowl, with a seven-cup capacity. Which so many sizes to choose from, you can't go wrong.
WR Ceramika offers several lovely choices as well. Their Serving Bowl 23 and Deep Round Bakers hold 6 to 7 cups. The Deep Round Baker's handles make for easy passing around the picnic table!
Now, how about those baked beans, potato salad and other summery sides? Manufaktura offers an oval Covered Casserole in small, medium, and large. One is sure to be the perfect size for your needs. WR Ceramika's round Casserole with Lid is a medium size, holding seven cups.
Don't forget Manufaktura's Batter Bowls make great serving pieces as well. Their handles make them easy to pass. Their seven-cup capacity allows them to hold plenty for a crowd!
But wait - don't forget Polish Pottery Egg Plates. What would a summer gathering be without Aunt Minnie's deviled eggs? Manufaktura, WR Ceramika, and Zaklady have terrific selections. The hard part is choosing just one.
Now, what about dessert? You'll just have to tune in next time!