Posted on
By Sharon Lukachick
Posted in Best Polish Pottery Selection, Best Selection Of Mosquito Pottery, Best Selling Polish Pottery Plate, Best Zaklady Polish Pottery Selection, Ceramika Artystyczna Polish Pottery, Hand Painted Boleslawiec Pottery, Hand Painted Ceramic Bowls, Hand Painted Polish Pottery Bowl, Hand Painted Polish Pottery Teapot, Handmade Ceramic Pottery, Handpainted Peacock Pottery, High End Polish Place Settings, Kalich Polish Stoneware, Manufaktura Polish Pottery, Polish Pottery Ceramic Mugs, Polish Stoneware Bubble Mug, Top Polish Stoneware Collections, Top Selling Polish Dinnerware, Top Selling Polish Dishes, Top Selling Polish Pottery Mug, Unikat Polish Pottery Patterns, Unique Polish Ceramics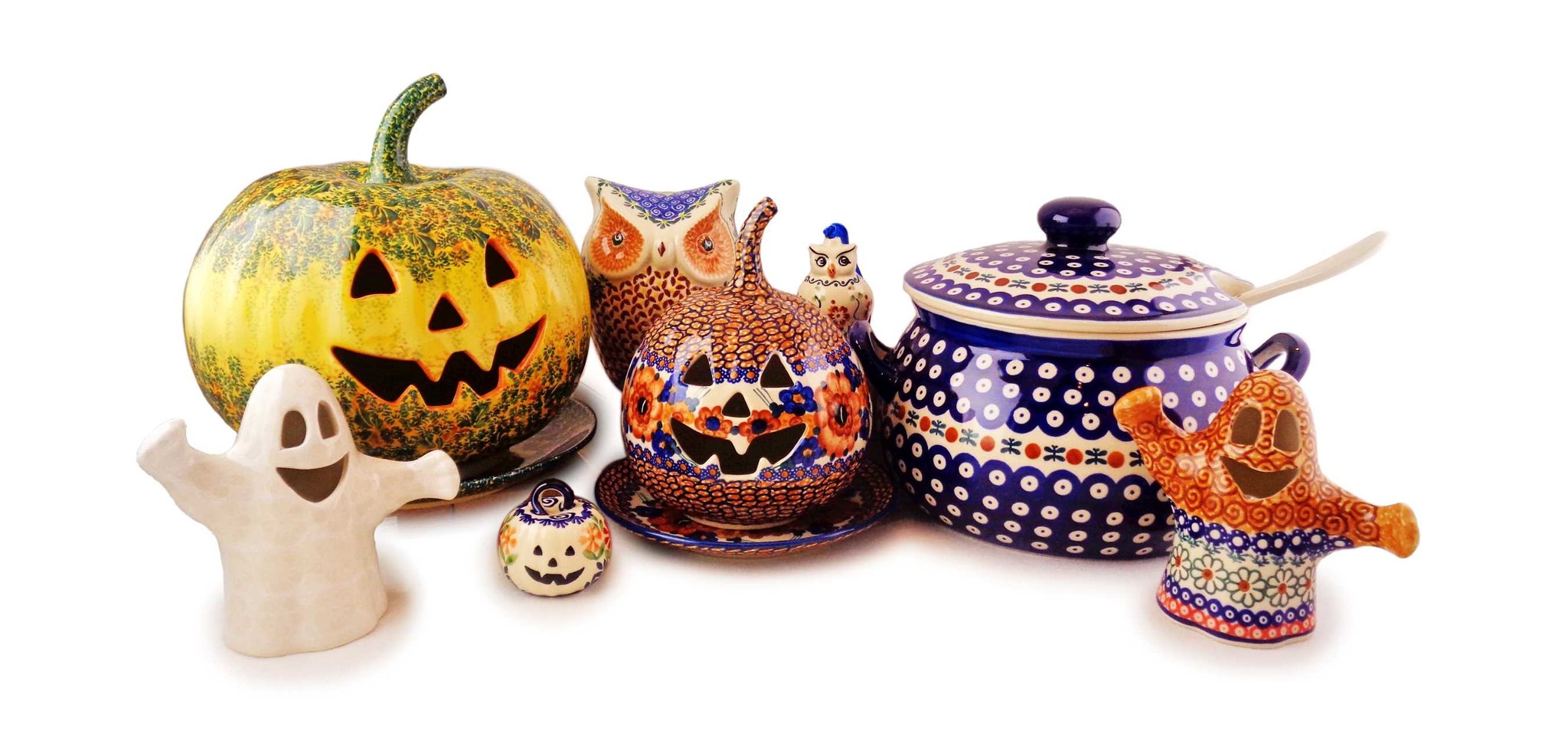 After a long, hot summer we are always delighted when October rolls around bringing cooler temps, falling leaves and hearty meals.
What are your favorite Fall traditions? At The Polish Pottery Shoppe, our thoughts turn to fall polish pottery patterns with pumpkins, owls and ghosts. Our customers love these items too.
Thank goodness our owner, Cindy, always thinks ahead and orders an abundance of seasonal items for the shop. Just check out our Fall Decorating inventory with the click of a mouse.

Remember, too, that pumpkins aren't just for Halloween. Many of our customers simply rotate the jack-o-lantern face to the back and enjoy Fall seasonal flourishes until the last slice of Thanksgiving pie.
Pumpkin and Owl Ornaments accompanied by our adorable Polish Pottery Ghosts can decorate your table until Halloween. As we are sure you know, the large Polish Stoneware Pumpkin is a stunning dining table centerpiece. Put all these together and there's a one-of-a-kind seasonal vignette that will wow your guests at your next party.
 
For over-the-top elegance, check out Kalich's Jack-o-Lanterns. The artwork is exquisite and the colors are stunning. Make sure you order these now, because they have fly off the shelves (on broomsticks, naturally) and once they're gone, we won't have more until next year.
We also have a wide selection of Illuminated Owls. Put a candle inside and you you have a feast for the eyes. If you have friends or relatives who are educators, this is the gift for them. After all, owls symbolize intelligence.
When setting an autumn table, think in terms of polish pottery patterns in Avery, Tuscany and Roksana, as their colors tend more to the dark green, brown, and rust colors we see in the fall foliage. Roksana's flaxen base color highlights the green tendrils beautifully. For playfulness, add some Rennie to the mix. 
Looking for tasty, new dishes to grace your Polish Pottery? Stay tuned for Cindy's mouth-watering apple dip recipe. Your taste buds will thank you.
If you love Fall as much as we do, then you need to add some of these fun Fall polish pottery patterns to your table before they're gone.