Posted on
By Cindy DeLong
Posted in Best Polish Pottery Selection, Best Selection Of Mosquito Pottery, Best Selling Polish Pottery Plate, Best Zaklady Polish Pottery Selection, Ceramika Artystyczna Polish Pottery, Hand Painted Boleslawiec Pottery, Hand Painted Ceramic Bowls, Hand Painted Ceramic Pottery, Hand Painted Polish Pottery Bowl, Hand Painted Polish Pottery Teapot, Handpainted Peacock Pottery, High End Polish Place Settings, Kalich Polish Stoneware, Manufaktura Polish Pottery, Polish Pottery Ceramic Mugs, Polish Stoneware Bubble Mug, Top Polish Stoneware Collections, Top Selling Polish Dinnerware, Top Selling Polish Pottery Mug, Top Selling Polish Pottery Patterns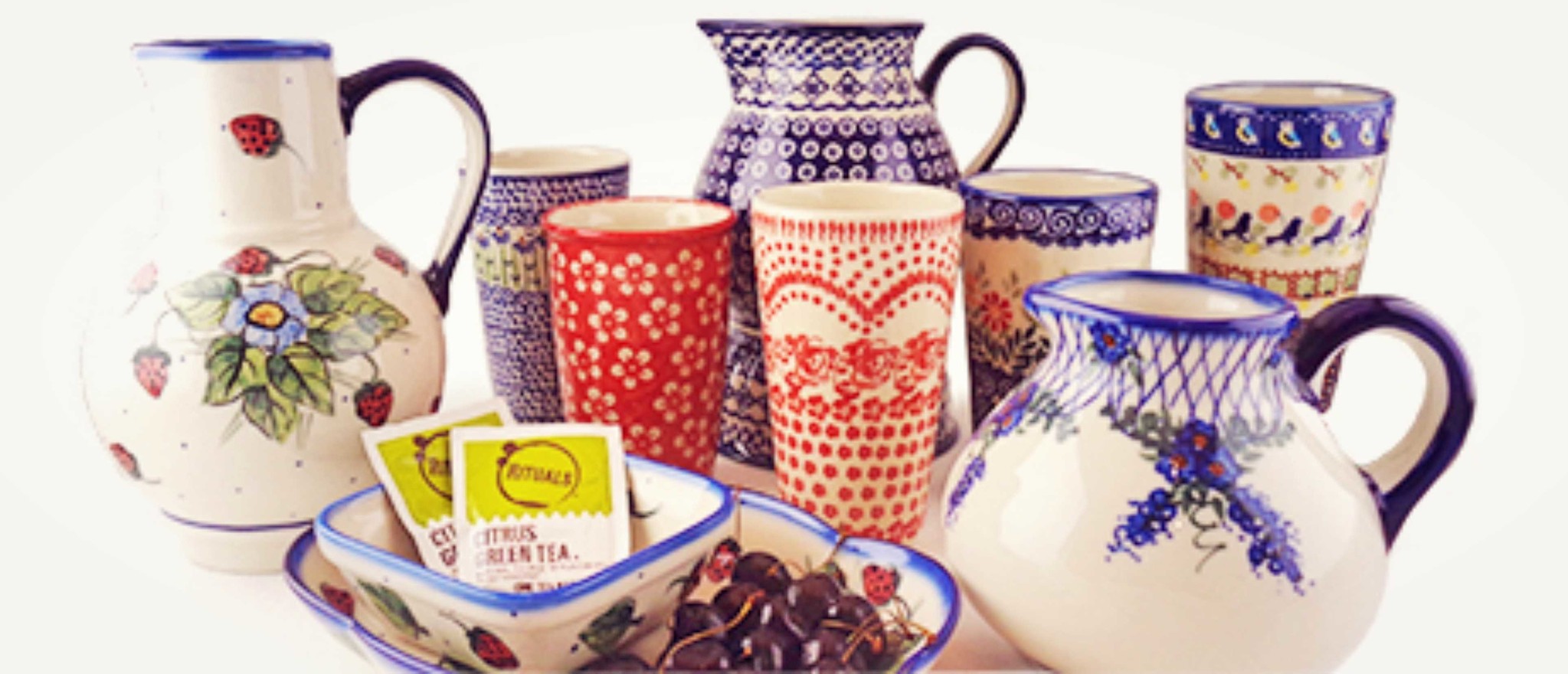 Once we're officially into the sweltering summer months, it's time to keep a cool drink on hand nearly 24/7. Have you considered Polish Pottery to fill that need? Polish Stoneware Bubble Mugs keep cold beverages cool, just as they keep warm drinks warm.
Rather than a piping hot cup of java in the morning, perhaps an iced coffee would get you up and out the door while keeping your cool. In between cups of coffee, just refill your cup with cool water to keep hydrated. Coffee never tastes better than in a Polish Pottery Bubble Mug. Are you a medium or large Bubble Mug coffee drinker?
For your lunchtime beverage, nothing beats a cool, tall drink of milk, tea, water or lemonade in Manufaktura's Tall Tumbler or Tall John Mug.  We have a tremendous selection of patterns from which to choose.
Why not try a new iced tea recipe for this year's 4th of July festivities?  We found a nice variety of tea recipes that look like fun.  Here's just one that we like:
Chamomile-Ginger Iced Tea
Bring 6 cups of water to a boil in a 3-quart saucepan
Remove from heat and add:
6 Tablespoons Honey
2 Tablespoons peeled and grated fresh ginger
2 Tablespoons fresh lemon juice (about two lemons)
12 chamomile tea bags
4 2" strips lemon rind
Steep for 90 minutes
Pour tea through a sieve into a pitcher, discarding solids. Cover and refrigerate until chilled.  Serve over ice with a lemon wedge. Enjoy!
Are you on the go? Our Polish Stoneware Travel Mugs keep your beverage cool (or hot) and fit nicely into car cupholders. When you aren't running errands or taking the kids to soccer practice, remove the travel lid and sleeve and now you have a Tall Tumbler.
To keep more than one cup of coolness at the ready, draw from our selection of Manufaktura's Polish Pottery Pitchers. These range in graduated sizes from .5 liter to 3 liters. WR Ceramika has interesting shapes with the Small and Medium Belly Pitchers, along with the Kruk, Lotus Pitcher, and Pitcher for Wine. The Pitcher for Wine can dispense non-alcoholic liquid refreshment, too.
Remember that any pitcher can be a clever vase substitute, especially for a dinner party!  And a pitcher could/SHOULD be kept in the refrigerator with slices of cucumber or fruit for a refreshing lift at any time.