Posted on
By Cindy DeLong
Posted in Best Polish Pottery Selection, Best Selection Of Mosquito Pottery, Best Selling Polish Pottery Plate, Best Zaklady Polish Pottery Selection, Ceramika Artystyczna Polish Pottery, Hand Painted Boleslawiec Pottery, Hand Painted Ceramic Bowls, Hand Painted Ceramic Pottery, Hand Painted Polish Pottery Bowl, Hand Painted Polish Pottery Teapot, Handpainted Peacock Pottery, High End Polish Place Settings, Kalich Polish Stoneware, Manufaktura Polish Pottery, Polish Pottery Ceramic Mugs, polish pottery Christmas, Polish Stoneware Bubble Mug, Top Polish Stoneware Collections, Top Selling Polish Dinnerware, Top Selling Polish Pottery Mug, Top Selling Polish Pottery Patterns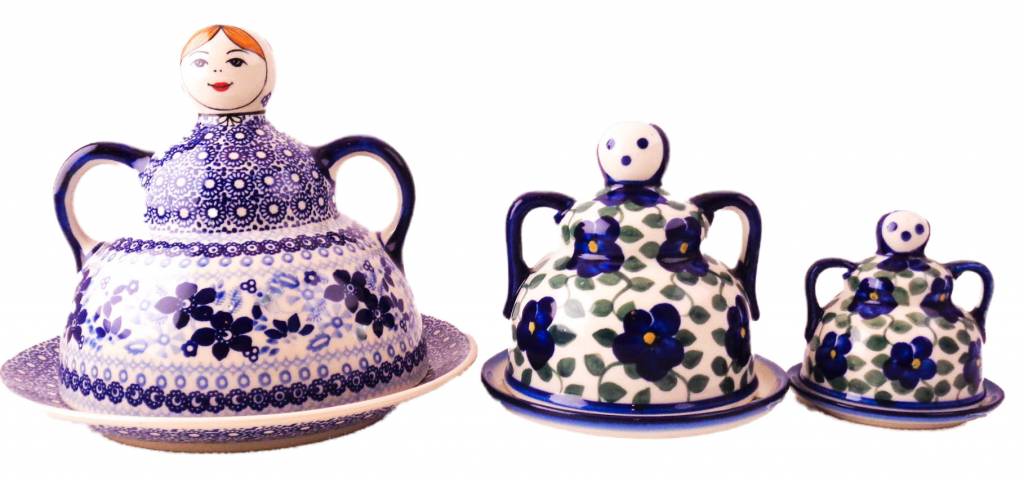 At our shop, you will find a handful of classic Polish Pottery shapes that we call "Folk Art" pieces such as Butter Bells, the Man & Woman Salt & Pepper Sets, and our Santa, or St. Nicholas Cookie Jars. One of our favorites is the classic Cheese Lady. Her cheerful expression will brighten any table or buffet.  Polish Pottery Cheese Ladies have been used for many years for storing and serving cheeses and butter (much like a cheese dome). The large size Polish Pottery Cheese lady is also used as a pancake server - a warm place to keep your pancakes before serving.
Cheese Ladies can be accessorized with our Polish Pottery spreaders, spoons, and small scalloped bowls. Your guests can fill their plates and bowls with delicious Polish Cheese.
Poland is the sixth largest cheese producer in the world. The history of cheese making in Poland goes back to 5500 B.C. when a mozzarella-like cheese was produced in Neolithic times in north-central Poland. Even today some Polish cheeses are considered a national craft. The European Union recognizes and protects these specialty cheeses.
Polish Farmer's Cheese, called Twarog, is a fresh, acid set, semi soft cheese with a curdled texture.  These properties made this cheese ideal for appetizers and beautiful on one of our Polish Pottery Chip and Dip trays. Twarog cheese is also used in pierogis and gives the pierogi a unique taste.
We are sharing a recipe using farmers cheese as a spread. Delicious! Serve it along with a hard cheese in a lovely Cheese Lady at an upcoming holiday gathering. Remember to use your Polish Pottery oval trays and square plates for appetizer plates. Other top selling Polish dinnerware serving pieces are sure to make a beautiful table.  
Farmers Cheese Spread Recipe
½ pound farmers cheese
2 tablespoons sour cream
4-5 green onions
¼ teaspoon salt
8 chopped radishes
½ yellow onion chopped
2-3 cloves garlic chopped
Fresh pepper to taste
¼ teaspoon cayenne pepper
½" teaspoon basil
½" oregano
½" teaspoon of thyme
Chop green onion and add salt. Stir and let sit (10 minutes) while you prepare the rest
Mix all ingredients in bowl. If too thick, add sour cream to get a creamier texture.
Test for flavor
Spread over toasted bread and garnish with parsley