Posted on
By Cindy DeLong
Posted in Best Polish Pottery Selection, Best Selection Of Mosquito Pottery, Best Selling Polish Pottery Plate, Best Zaklady Polish Pottery Selection, Ceramika Artystyczna Polish Pottery, Hand Painted Boleslawiec Pottery, Hand Painted Ceramic Bowls, Hand Painted Ceramic Pottery, Hand Painted Polish Pottery Bowl, Hand Painted Polish Pottery Teapot, Handpainted Peacock Pottery, High End Polish Place Settings, Kalich Polish Stoneware, Manufaktura Polish Pottery, Polish Pottery Ceramic Mugs, Polish Stoneware Bubble Mug, Top Polish Stoneware Collections, Top Selling Polish Dinnerware, Top Selling Polish Pottery Mug, Top Selling Polish Pottery Patterns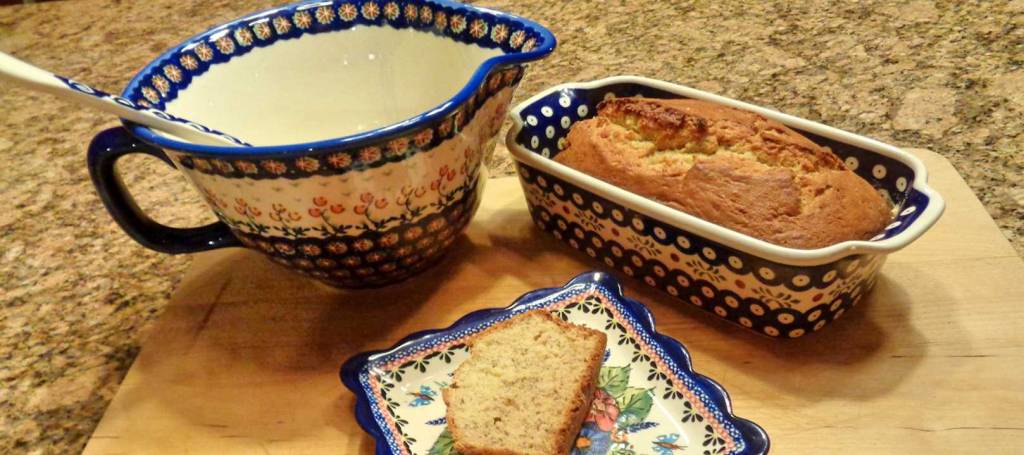 Polish Pottery Collectors know just how great hand painted ceramic pottery is to bake in.  Polish Pottery bakes very evenly.  A cake, brownies or anything else baked in Polish Pottery will bake the same across the dish.  In other words, the center and edges will bake the same.  No more middle of the cake not baking completely. 
Also, the glaze on the pottery makes clean-up quick and easy.  You can almost wipe it clean. You can even put a very light Crisco coating on it.
Of course, if you are baking a sheet cake to take to a pot luck dinner, church, or anywhere else, baking it in Polish Pottery means you take it in Polish Pottery.  Your cake will be the greatest hit at the party because it arrives in beautiful, hand painted ceramic pottery.
Speaking of baking, our owner Cindy DeLong, has some wonderful recipes from her mother.  Everyone thinks their mom is the best cook and hers is no exception. 
Cindy has a binder full of her favorite recipes including those from her mother.  One of the greatest recipes is her Banana Bread, which is pretty much an American staple. Today, she is going to share that recipe with you to try out in your Polish Pottery.
Mom's Banana Bread
Cream together
2/3 cup sugar
½ cup shortening
2 eggs
Combine the following and add to the above mixture
3 tablespoons buttermilk*
1 cup mashed bananas
Add the following and mix well
          1 teaspoon baking powder
          ½ teaspoon baking soda
          ½ teaspoon salt
          2 cups of flour
          optional: add chopped nuts of your choice
Pour the batter into a loaf pan or muffin pan from Manufaktura. Let it sit for 20 minutes to let the baking powder do its thing.  Bake at 350 degrees for 50 to 60 minutes. Next, eat and enjoy your bread in a beautiful piece of pottery.
*If you don't keep buttermilk around, you can substitute by combing a teaspoon or so of lemon juice with regular milk.  Skim milk works fine.  Let it sit a few minutes and it will thicken like buttermilk. 
If you have any questions about Polish Pottery uses and care please contact us at The Polish Pottery Shoppe. We would be happy to assist you in adding unique, hand painted ceramic pottery to your baking collection.