Posted on
By Cindy DeLong
Posted in Best Polish Pottery Selection, Best Selection Of Mosquito Pottery, Best Selling Polish Pottery Plate, Best Zaklady Polish Pottery Selection, Ceramika Artystyczna Polish Pottery, Hand Painted Boleslawiec Pottery, Hand Painted Ceramic Bowls, Hand Painted Ceramic Pottery, Hand Painted Polish Pottery Bowl, Hand Painted Polish Pottery Teapot, Handpainted Peacock Pottery, High End Polish Place Settings, Kalich Polish Stoneware, Manufaktura Polish Pottery, Polish Pottery Ceramic Mugs, Polish Stoneware Bubble Mug, Top Polish Stoneware Collections, Top Selling Polish Dinnerware, Top Selling Polish Pottery Mug, Top Selling Polish Pottery Patterns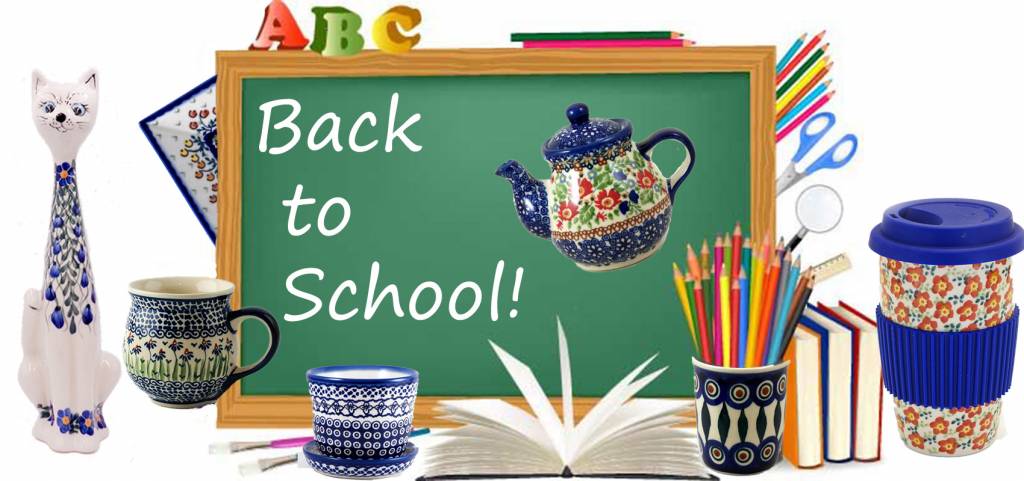 For many, this time of the year means your child is going back to school.  Even if your "kids" are bound for college rather than elementary school, there are still several items on their supply list we can help you with to make the transition run smoothly and fun for both you and your child.
What student wouldn't be thrilled to have Polish pottery ceramic mugs to drink coffee in the morning (and probably the evenings too)?  If your student loves tea as well as coffee, what about a tea infuser or tea-for-one teapots? All of these items take up minimal space in a cramped dorm or apartment and, in a pinch, your student could use them for college budget friendly ramen noodles or cup-of-soup. 
Also, the F15 bowl and Square Plate 18 are just the right size for cramped dorm or apartment cabinets as well.  A couple of each and your student is ready to snack with a study buddy while getting ready for their next exam.
When making a trip to visit, why not take freshly-baked brownies in a Manufaktura square baker? If the family doesn't polish off the treat, roommates and classmates will certainly be willing to help.
If your student has to leave their beloved cat behind during the school year, the WR Ceramika Cat (large, medium and small) may be just the thing to ward off thoughts of coming home midweek for a visit. Kalich offers a second shape of cat figurine, in medium and small sizes. And the best part is - no litter box required.
Lastly, any child moving away from home for the first time would surely appreciate a plant to bring some fresh life into their living space. A Manufaktura flower pot, with your choice of planting, would remind your scholar that they're loved and missed every single day.